Calgary Wedding Officiant
Your wedding ceremony should be full of love and laughter! Together we will create a customized ceremony and an experience your friends and family will remember forever.
As a Wedding Officiant based in Calgary, Alberta, I am here to help you create the perfect ceremony in whatever location best represents you as a couple. Whether it is a traditional wedding here in Calgary or a hiking elopement in the mountains, I am here to make it the best day ever! 
Cole is a Province of Alberta appointed marriage officiant.
Eloping can be an amazing way to have an intimate, meaningful, and beautiful wedding. Not only are couples able to have their weddings in locations that speak to them but they are removing stress and so much pressure from traditional wedding plans.
I can be your hiking officiant. Let's elope on a mountain, by the lake, or anywhere that has meaning and special significance to your relationship!
I have always loved people and never shy away from a crowd.
It wouldn't surprise most who have met me to know I was once a professional actor. I worked on local commercials and stage production for a few years until I found my calling as a Wedding Photographer!
Fast forward 9 years and 600 weddings later, I've decided to do more with weddings. As a wedding officiant, I wanted to help bring energy and laughter to the ceremony part of the day! We can stand on mountains and hike to have a ceremony or just relax in the comfort of your back yard. Love is love and can take place anywhere.
Your marriage ceremony should be everything you've ever dreamt of, and more! Together, we'll create a unique and personal day that you'll remember forever. We can create new traditions and also incorporate existing family and cultural ones.
1 - Preparing for your wedding ceremony
Before the ceremony we'll schedule a meeting to discuss your vision and expectations for your special day. We'll talk about location, whether you'd like an intimate backyard wedding, a traditional ceremony in the city, or even on top of a mountain. We'll come up with a Plan B because, let's face it, things happen! We'll also have the chance to go over the ceremony script, vows, and any other special requests you may have.
2 - During your wedding ceremony
The big day! Although the wedding ceremony will look different for everyone, one thing that remains the same is the amount of love and happiness in the air. My job is to make your marriage official in the eye of law by making sure all legal requirements are met.
3 - After your wedding ceremony
Registered Marriage Officiants are always responsible for filing paperwork after the event. As a couple you may pre order your legal certificate or wait for the wedding to be processed. You are legally married upon the day of the wedding and the certificate is a document representing so. This document is used for name changes, etc. 
"You are the most whole hearted person ever Cole! You were meant to be an officiant."
"Thank you for always being so positive and supportive . The ceremony was beautiful. It was a great adventure"
Calgary Marriage Officiant Services
Civil Ceremonies
Wedding Ceremonies
Traditional Weddings
Hiking Wedding Officiant
Elopements
Hiking Elopements
Ski Elopements
Vow Renewals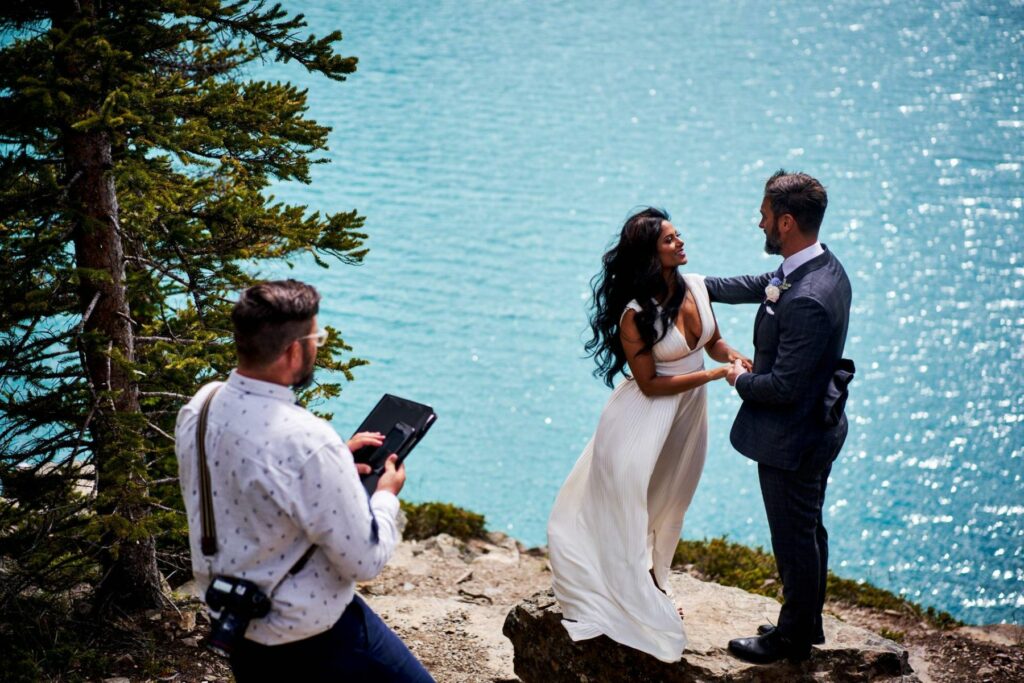 DESTINATION Wedding Officiant
Destination Marriage Officiant Services
So you want to travel somewhere magical for the big day? No problem.
Destination weddings near Banff amongst the mountains and crystal blue waters are always a beautiful choice and I am more than happy to take the trip with you.
If you're planning on travelling further for your wedding, you have the option to have the Officiant perform the legal bits at home, saving you the legal hassles when you're abroad. In this situation, your destination wedding will be more of a symbolic wedding and celebration with your friends and family.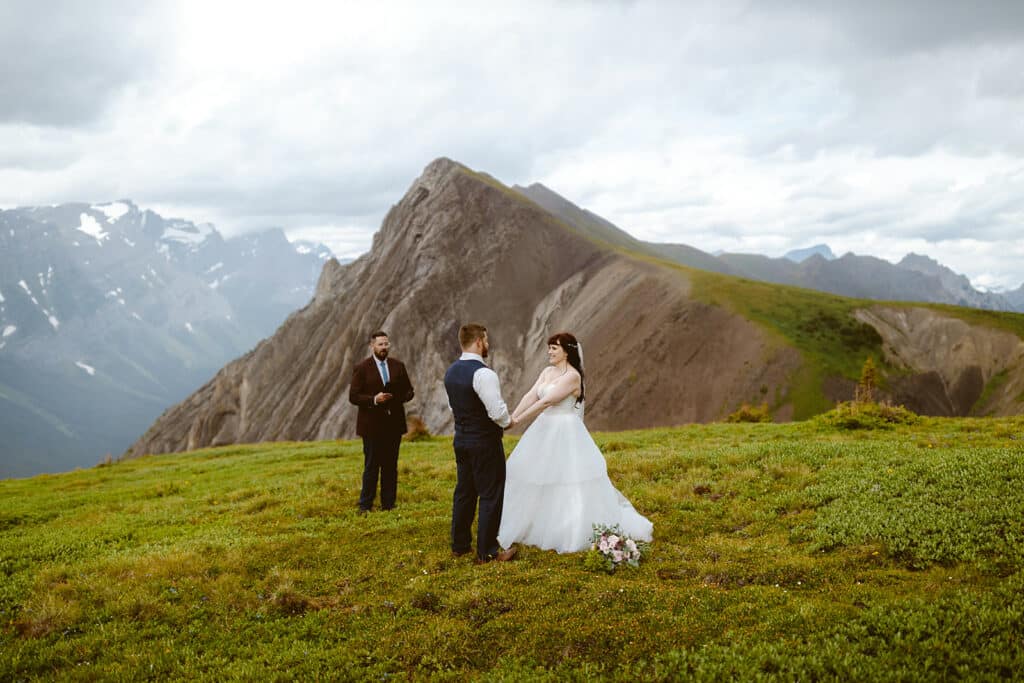 "Thank you Cole! It was an amazing adventure. We had a wonderful time hiking with you! You are the best!!!!!!"
You're an excellent officiant!! Court and I are so glad we chose you! I highly recommend you to ANYONE!!!
Frequently Asked Questions
What is a Wedding Officiant?
A Wedding Officiant is any person who performs the role of officiating a legal marriage ceremony. They help you craft the ceremony of your dreams, guide you through the process, and lead the ceremony on the big day.
Wedding Officiants are growing in popularity because of their non-denominational nature, meaning they're not restricted to any particular religious denomination. Love is love and everyone should have the right to fall in love and share that love with whom they choose.
What does a Wedding Officiant do?
A Wedding Officiant's main responsibility is to make your marriage legal in the eyes of the law. From using official language, taking care of filing government documents, right down to the date stamp, you can rest easy knowing everything will be taken care of. 
Aside from the legal aspect, Wedding Officiants also ensure a fully personalized wedding experience by working together to write a personal script to match your ceremony. Having an experienced Wedding Officiant to guide you through the process and answer all your questions will save you time, money, and a lot of headaches!
Why hire a Wedding Officiant?
Hiring a Wedding Officiant provides flexible options for your wedding to have the most memorable ceremony suited to your style.
Couples who don't regularly attend religious services or have different faiths find Wedding Officiants ideal because of their flexibility. It allows you to create a personalized and unique ceremony for your special day.
Plus, if you want to get married on top of a mountain, you need someone willing to climb that mountain with you! For those that have more adventurous plans for their wedding or elopement, I have officiated in places such as Grizzly Peak, Fairview Hike in Lake Louise, and Yamnuska. If you're looking for a wedding or elopement officiant that's ready to hike for you, look no further!
How much does a marriage officiant cost in Alberta?
Having a simple legal service to certify your marriage and file the paperwork can start at $200. Other services such as fully custom ceremonies with personal details can range greatly based on location and services provided.  
What does the officiant say at a wedding?
Whatever you want! Seriously. The ceremony script can be fully customized to suit your style. We can make it funny, sweet, or straight to the point. We can incorporate the story of how you met, your favourite quotes, or whatever else you'd like to hear before you marry your person.
Who can officiate a wedding in Alberta?
Both clergy (registered in Alberta), and civil marriage commissioners (appointed for Alberta) can legally officiate weddings in Alberta. There are no legal differences between getting married by a religious clergy person and a marriage commissioner/officiant.
Who can witness a marriage license in Alberta?
In Alberta, two witnesses are required for a wedding. Legally, a witness must be over 18 years old, have a physical copy of their ID with them, without any cognitive impairments, and fluent in the language being spoken at the ceremony. Beyond those guidelines, it's completely up to you. You can choose a family member, a friend, or even a fellow hiker on the mountain you're getting married on!.
What is the difference between a marriage license and a marriage certificate?
A marriage licence shows Wedding Officiants or Marriage Commissioners that you have met all legal requirements to be married. The married couple is responsible for obtaining the marriage license and handing it to the person performing the marriage. Once this document is signed, it legally binds you as married!
Once the Wedding Officiant submits your marriage license after the wedding, a marriage certificate is issued, proving the couple is officially married. As a couple you must apply for a marriage certificate and it is an additional fee from the registry.